MATHIAS RUPPNIG - Drummer, Composer and Educator
born 28.12.1986 in Oberpullendorf, Austria
1992-1998 lessons in drumset and classical percussion in the class of Günter Meinhart
till the age of 19 autodidact education, parallel finishing high school and playing in several Rock, Pop and Punkrock Bands
at the age of 19 lessons with Andjelko Stupar and Bernd Richter with a purpose of preparing the audition for Jazz Drums at the University of Music and Performing Arts in Graz, Austria
2012 graduation with honors for the bachelor's programme "Jazz Drums" and the bachelor's programme "Music Education Jazz" from the University of Music and Performing Arts in Graz, Austria
afterwards taking part of the master's programme "Jazz Drums" at the University of Music and Performing Arts in Graz, Austria, studying with Howard Curtis
furthermore active as a composer, april 2012: Debut album release as a bandleader and composer (Mathias Ruppnig – square) on the well known viennese Jazz-Label "Session Work Records"
2012 – 2013 active as a drum teacher at the "Studio Percussion School" Graz, Austria
October 2013 CD release of "The Spinning" on "Session Work Records", distribution: "Harmonia Mundi"
2014 WINNER of the 37th Annual "DOWNBEAT" Student Music Award, with: KUG Composers Ensemble feat. Marco Antonio da Costa, in the category: Latin Group – Graduate College Outstanding Performance
2014 graduation with honors for the master's programme "Jazz Drums" from the University of Music and Performing Arts in Graz, Austria
from October 2014 member of the "EBU – European Jazz Orchestra", to represent the national radio ORF for Austria
June 2015 CD release of "Radio Liberty" on "Listen Closely Records"
2016 monthly concert series (Donau Conversations) at Jazz Club Donau115 (listed under best 10 Jazz Clubs in Europe by THE GUARDIAN) in Berlin
August 2016 India/Sri Lanka – Tour with the co-leading group DACH
April 2018 co-leading group SCOPES (w/ Ben van Gelder, Tony Tixier & Tom Berkmann) European tour + album recording
June 2018 joining the Tobias Meinhart European Quartet + recording for Sunnyside Records with the Tobias Meinhart 4tet & Kurt Rosenwinkel
March 29th 2019 release of "SCOPES" self-titled with Whirlwind Recordings (worldwide)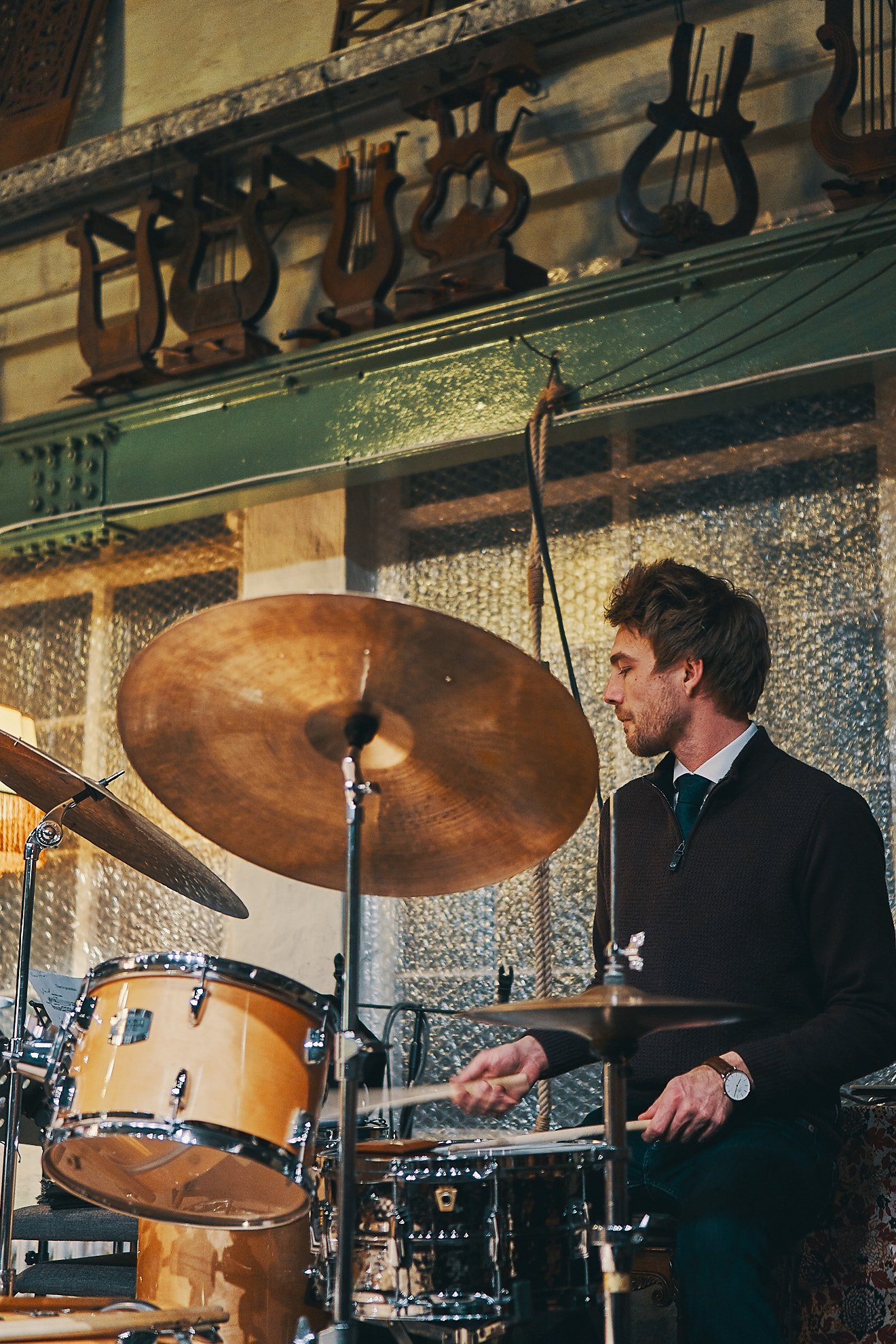 Die
Kompositionen und Arrangements
– sie stammen allesamt von Mathias Ruppnig – zeugen von einem umfassenden musikalischen Verständnis.
- Jörg Weitlaner, Concerto
Referenzen
– collaborated with (artists):
Kurt Rosenwinkel, Jim Rotondi, Ben van Gelder, David Liebman, Tony Tixier, Manickam Yogeswaran, Phil Donkin, Tobias Meinhart, Lorenz Kellhuber, Patrice Heral, Andrej Prozorov, Klaus Dickbauer, Johannes Dickbauer, Vadim Neselovskyi, Luis Bonilla, Johannes Fink, Roman Ott, Wanja Slavin, Juan Garcia Herreros, Uli Rennert, Christoph Pepe Auer, Christian Bakanic, Kenneth Dahl Knudsen, Malte Schiller, Dena DeRose, Jure Pukl, Robert Jukič, Marko Črnčec, David Six, Selen Gülün, Viola Hammer, Matthias Bartolomey, Tuomo Uusitalo, Asja Valcic, Heinrich von Kalnein, Michael Kahr, etc.
– collaborated with (bands):
Tobias Meinhart Quartet, SCOPES, Jim Rotondi Electric Band, Tony Tixier Trio, Dickbauer Collective, EBU – European Jazz Orchestra 2014, DACH, Dyki Lys (Ganna Gryniva), Kenneth Dahl Knudsen Orchestra, Viola Hammer Trio, Defcon, JmKanes, Ira Atari, etc.
Obwohl die Band unter dem Namen des
Schlagzeugers
agiert, ist dieser nicht vordergründig aktiv. Allerdings ist er es, der hauptsächlich für die Lebendigkeit sorgt.
- Wolfgang Giese, Rocktimes
festivals (short list):
         Jazzweekend Unterföhring (Munich, Germany)
         Jazz Festival Saalfelden (Saalfelden, Austria)
         Jazzrally Düsseldorf (Düsseldorf, Germany)
         CULLY Jazz Festival (Cully, Switzerland)
         Bayerisches Jazzweekend (Regensburg, Germany)
         Jazzmandu Festival (Kathmandu, Nepal)
         Music Matters Festival (Colombo, Sri Lanka)   
         JAZZ FEST Wien (Porgy & Bess Wien, Austria)
         KIM Fest Berlin (Prachtwerk Berlin, Germany)
         INTERNATIONAL JAZZ at the Old Town Square FESTIVAL (Warsaw, Poland)
         ALFA JAZZ FEST (Lviv, Ukraine)
         Jazz Goes To Town Festival (Hradci Králové, Czech Republic)
         Contemporary Music Festival: Composers and Performers (Palermo, Italy)
         Trnavsky Jazzyk Festival (Trnava, Slovakia)
         INNtöne Jazz Festival (Diersbach, Austria)
         Kunstbunker Music and Art Festival (Duga Resa, Croatia)
         Jazzwerkstatt Graz Festival (Graz, Austria)
         UNESCO International Jazz Day (Porgy & Bess Wien, Austria)
         MOZZAJIK Jazz Festival (Velenje, Slovenia)
         Herbstzeitlose Festival (Graz, Austria)
         JAZZliebe Festival (Dom Penine, Slovenia)
Wenn diese 13 Stücke des Jazzsilberlings
The Spinning
nicht ausreichen, für Jazz zu begeistern!
- Christopher Dömges, Die Redaktion